Crane Tree Removal Services for Black Diamond Residents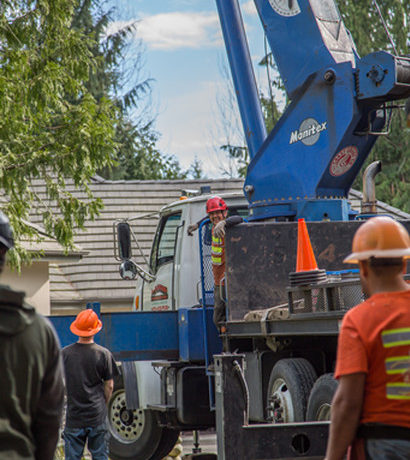 We have years of experience providing crane tree removal services for Black Diamond residents and the greater Puget Sound area.
While this type of equipment and technology have been used for decades, we are among a modest number of companies in the area that own and use this cost-effective, safe method that allows us to:
Work with great efficiency
Lift away an entire tree and place it into a safe work zone
Complete a job in hours vs. days
Work in tight or hard-to-reach spaces
Conduct this type of work every day without damage to property
One of the foremost reasons that we are called for both emergencies and non-emergency projects is that we are specialists in working with extremely difficult locations and conditions with little to no disruption to structures, property or landscape.
Call today to tell us what you need, and we will prepare a free detailed written estimate!
A Tree Crane Can Keep Your Black Diamond Landscaping Unharmed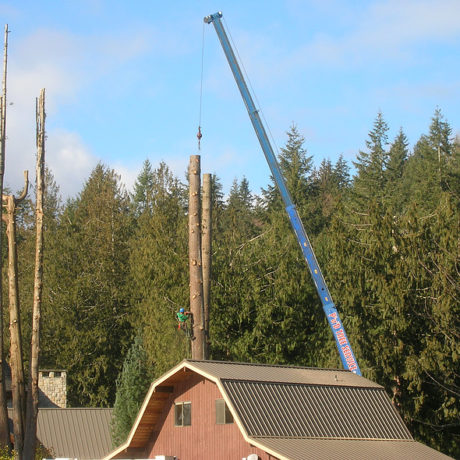 With the use of a tree crane in Black Diamond, our highly skilled operators and crews can perform large, small, and dangerous extractions in a safe manner that leave your landscape unharmed and free from damage.
We specialize in high risk services that involve difficult areas to reach such as steep banks with a retaining wall, tight spaces with a septic system nearby, or residential yards with fences or retaining walls.
These are a few of the many important benefits of this technique vs. traditional methods:
Completion in hours rather than days
In general, greater cost efficiency
Ability to reach and work in difficult areas or tight spaces
Greater safety for crew members and site area
No damage to landscape using tree cranes, aerial lifts and safe rigging
Our professional operators and crews work seamlessly as a team every single day using equipment that we own and that is familiar to them.
Call us with your questions, or to request a free written and detailed estimate!
Black Diamond Low Impact Tree Removal with a Crane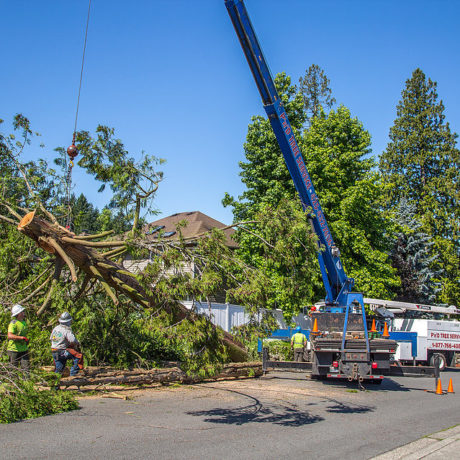 One of the questions frequently asked by residents of Black Diamond is, "What will low impact crane tree removal cost?".
And that is an excellent question! Like many unique industry services, this one is no different. There are a few factors that need to be considered when determining the cost:
Location – near the home, utility lines, other structures, or a septic system
Distance
Size and condition of the tree
Industry regulations and safety restrictions
Equipment – chipper, log truck, rigging
Estimated time and crew size
As specialists in high risk assignments with capabilities for working in difficult conditions and environments, we will assess your project to determine the best method of extraction, and prepare a free written detailed estimate.
While our techniques may vary from one project to another, you can be assured that our professional operators and crews can perform safe lifting from close quarters into a safety work zone without damage to your landscape.
Call P and D Logging to hire the best in the Pacific Northwest! 425-569-0900